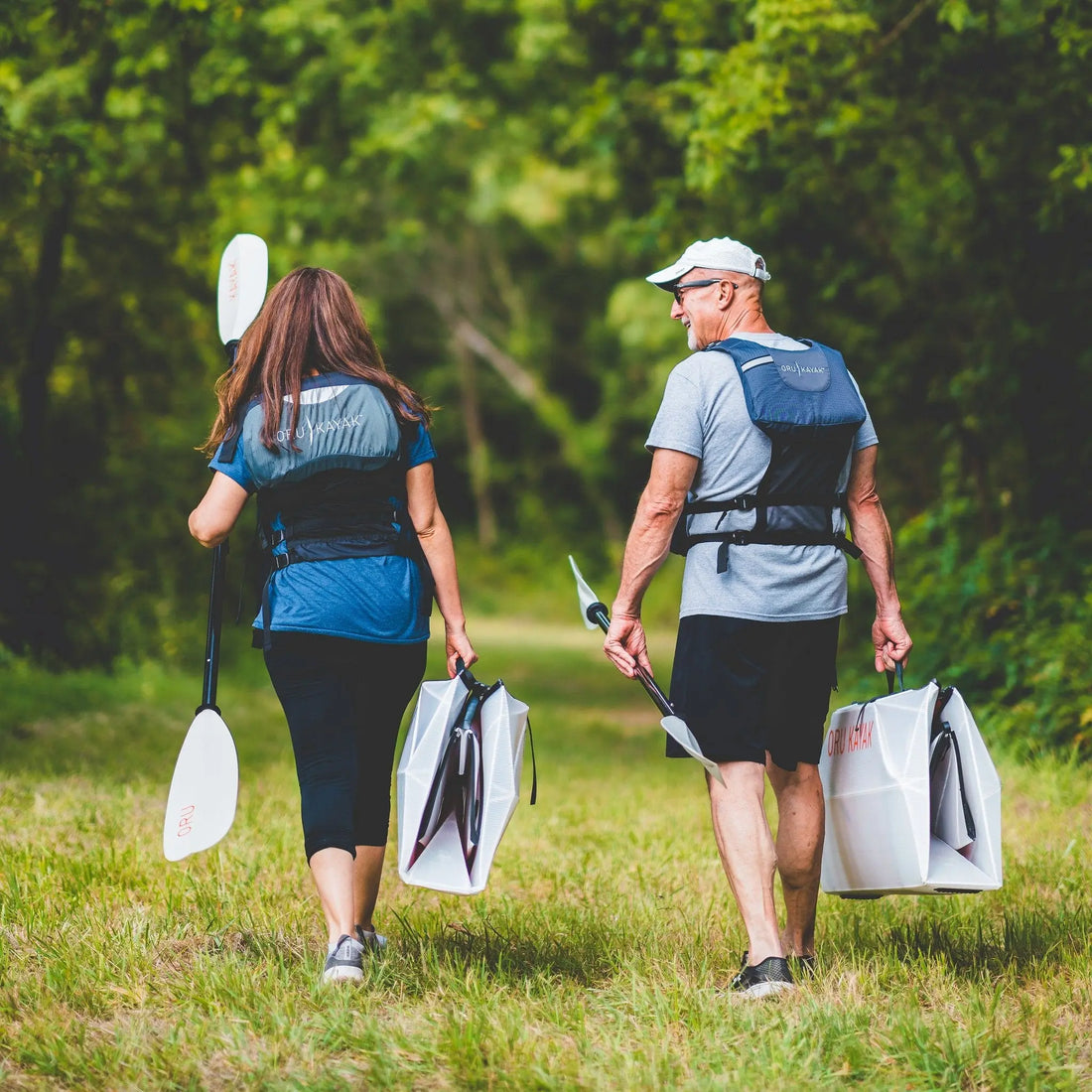 Love this recreational folding kayak.
"Ottawa Valley Air Paddle made this purchase really fast and easy. Very friendly, knowledgeable folks provided me with an excellent purchase experience, and I'm looking forward to the next one."- Hardy




🍁Ships From Within Canada🍁
The origami kayak for everyone, the Inlet is our lightest, most portable, and easiest-to-assemble boat YET. Designed for use on flat water, this boat is playful and light. You can store it just about anywhere. Get ready to streamline your entire kayaking experience. 
At 20 pounds, you can store the Inlet just about anywhere. It's compact enough to stash in your trunk, closet, boat or garage, and lightweight enough to bring with you everywhere. You can check it on a plane or hike into remote waters with the Inlet Pack.

On the water, the 10-foot Inlet is stable, but also nimble and playful. It's intended for use in calm water - think mirror-smooth lakes, rivers, and streams. Its large, open cockpit is perfect for paddles with a dog or small child. Best for first-time paddlers and beginners, but all levels will enjoy this recreational kayak.
Features and Benefits of Oru Kayak Inlet
Oru Kayak Inlet is a premium quality, folding kayak that is designed for adventure seekers who love to explore the great outdoors. Its lightweight and portable design makes it easy to carry around, even in the trunks of small cars, and allows you to quickly and easily set up your kayak anywhere you go. Whether you're a beginner or an experienced paddler, the Inlet is the perfect companion to take with you on your next kayaking adventure.
With a weight of only 20 pounds, the Inlet is one of the lightest kayaks available in the market. It's made from durable and high-quality materials, including a custom polypropylene material that is designed to withstand the elements and provide maximum durability. The Inlet is also extremely easy to assemble and disassemble, with an intuitive folding mechanism that allows you to go from box to boat in just a few minutes.
The Inlet has a sleek and streamlined design, which makes it glide effortlessly through the water. It also features a comfortable foam seat and adjustable footrests, which make it easy to find your perfect paddling position. The kayak has a weight capacity of up to 275 pounds, so it can easily accommodate a variety of body types without compromising its performance.
The Inlet is a great option for anyone who wants to enjoy the great outdoors, but doesn't have the space or budget for a traditional canoe or kayak. It's perfect for camping, backpacking, and exploring remote areas that are not accessible by car. Plus, because it's made from lightweight and durable materials, it's easy to carry around and won't weigh you down during long portages.
In summary, if you're looking for a lightweight, portable, and easy to assemble folding kayak, look no further than Oru Kayak Inlet. With its durable construction, comfortable seating, and streamlined design, it's the perfect choice for outdoor enthusiasts who want to explore the beauty of nature from the comfort of their own kayak.
Weight: 20 lbs (9 kg)
Length: 9'8" (295 cm)
Width: 31" (79 cm)
Cockpit: 23" x 44" (111 x 58 cm)
Max Paddler Height: 6'2" (188 cm)
Weight Capacity: 275 lbs (125 kg)
Kayak Box: 42" x 10" x 18" (107 x 25 x 46 cm)
Shipping box: 44" x 21" x 11" (112 x 53 x 28 cm)
Setup Time: 3-5 minutes
Ottawa Valley Air Paddle stands behind all it's products and offers a an industry leading 45-day money back guarantee. We want you to love your paddling equipment and if it's not right for you, we will find a way to make it right. If you would like to return a product, please reference our refund policy here.
The OVAP Advantage
In the few short years since openeing, we've helped thousands of customers get on the water in a new paddling vessle. We've focused on offering great products along with world class customer service and product knowledge. Our team of paddling experts will help you select the right product, we'll deliver it on time and we stand by our 45-Day Love Your Gear Guarentee.
Here's What some of our customers are saying
Absolutely perfect!
"The price was the same as if I had bought directly from the company, plus I saved the importation fees. So you are much better off buying from Ottawa Valley Air Paddle. And the kayak is amazing, it takes 2 minutes to assemble and disassemble, and it is lighter and much faster than my former inflatable one."
-  Nathalie M.
-------------------------------------
The entire experience was fabulous from start to finish
"We are so impressed with Ottawa Valley Air Paddle. This is our second Bay St. We ordered the first one directly from ORU. This time we saved on shipping from the US and the price of the kayak was significantly less than Amazon. The entire experience was fabulous from start to finish. High recommend working with Scott and Lana. They are knowledgable, seem to genuinely care about the customers, and offer service that is exceptional."
- Catherine
Easy closure flaps
Side-release buckles are super easy and intuitive. Simple to clip and tighten — and all of our straps have pull loops, friendly on old or sore hands.
Adjustable footrest
Our super sturdy ABS plastic footrest is easy to adjust — unlike many kayaks, you can fine tune it while sitting in the boat.
Adjustable backrest
A fully adjustable backrest provides support for paddlers of all sizes. Feeling lazy in the middle of a paddle? Just tilt it back using the side straps.
Fairing
These ultra-durable, riveted polyethylene sleeves help streamline the origami kayak, and protect the ends from scratches and scrapes.
Great service and great product!
I couldn't be happier with my new Oru Inlet Kayak! When they say from box to boat in minutes they weren't kidding. It's super easy to assemble and disassemble, incredibly lightweight/portable, and handles great in the water. I've already taken it to a few different locations and even been able to bring my cat along to join me now that I have an easy to transport kayak. And yes, my cat loves the purchase too! As for OVAP, you couldn't ask for better customer service. I have nothing but great things to say about Scott and Lana and would absolutely recommend them and OVAP to my friends and family, in fact I already have :)
does well what it does
we got this for easy portability/convenience and relaxed paddles on lakes and our large, slow-moving river. tried it out once on the river and it was great. easy set-up, even smaller/lighter than our BeachLT. i was worried i'd hit my hands when paddling b/c it's a little wider than the Beach, but that turned out not being an issue at all; thx!
Love my new Oru Inlet kayak!
Great service and an amazing, portable kayak! I used it for the first time today. It was easy to set up and great for a lovely day on the water.
My second Oru Kayak
Real light, easy to carry, to unfold, and to fold even when you're tired. Not meant for stormy weather!
Couldn't be Happier!
This kayak is everything I dreamed of! Not only is it easy to set up and super portable, it also tracks nicely and is quite stable. It's comfortable and there's even enough space to bring my corgi along for the ride. Scott and Lana were very helpful and responsive and picking up the boat from them was a breeze. I had a slight issue with one of the fairings but they helped me solve it quickly and a replacement part arrived at my door within a couple of days! Thanks to OVAP, I've got the perfect kayak for my lifestyle and I can't wait for all the adventures I'll get to have with it!