Easy To Transport
Every paddleboard and kayak we sell can easily be tranformed into a package that you can fit in the trunk of a car. No need for roof racks or tie downs. You can even throw them on your back and hike to a quiet lake!
Easy To Store
No room to store a full size kayak or paddleboard? No problem! All of our paddleboards and most of our kayaks take up less than 4 cubic feet of storage space and will easily fit in a small closet.
Easy to Set Up
The set up time for all the boards we carry is 5-7 minutes with a hand pump, and kayaks range between 5-15 minutes depending on the model. You can also speed up the inflation set up time with one of our electric pumps.
Extremely Durable
Every product we carry is designed to last for many years and is tested relentlessly by the manufacturers. Simply put, if we wouldn't trust it on the water for ourselves, we won't carry it.
Carefully Selected Partnerships
Over the last 5 years, we have tested several inflatable stand-up paddle boards, kayaks, and accessories with the goal of finding the best products at reasonable prices. We only work with partners who have high-quality products and an outstanding reputation.
---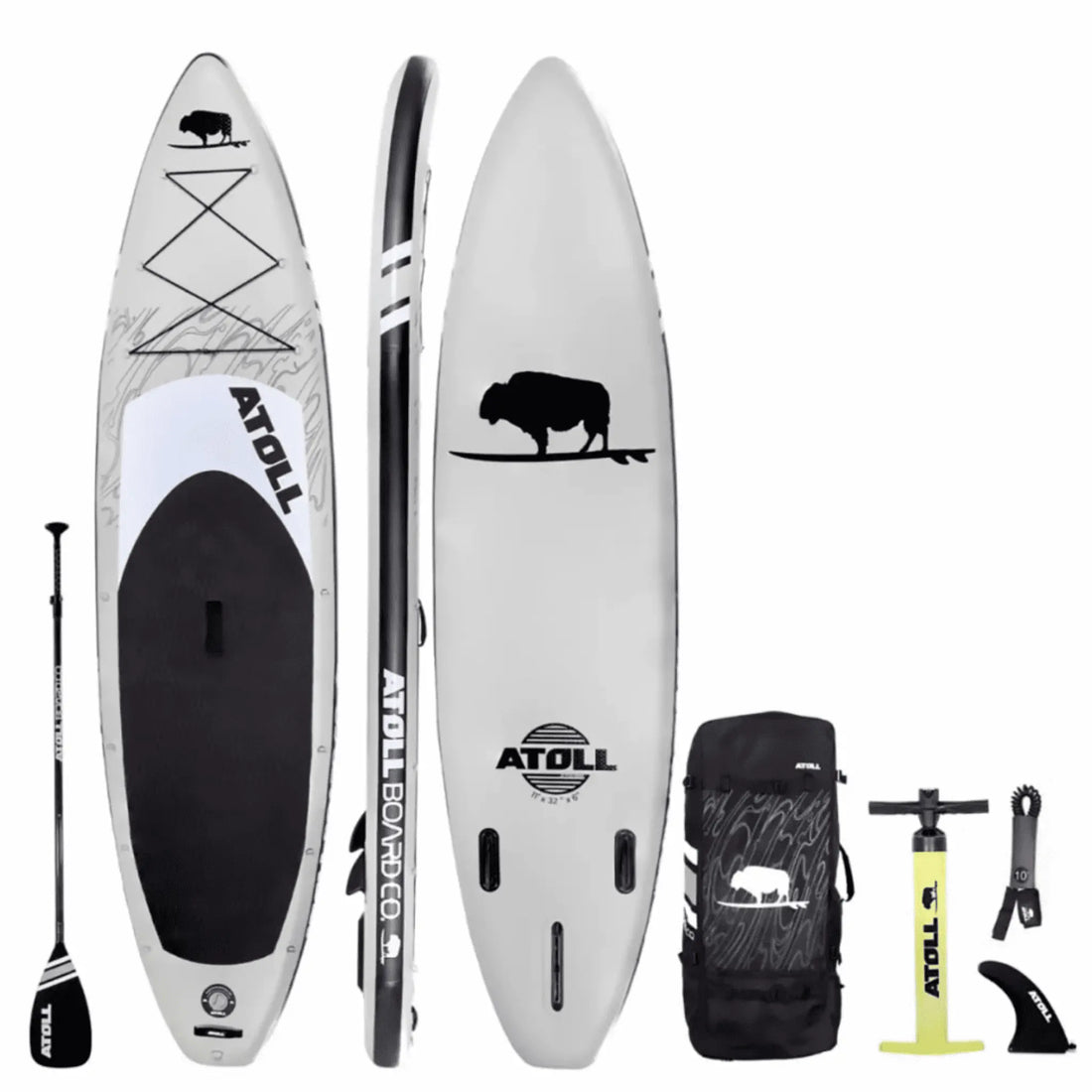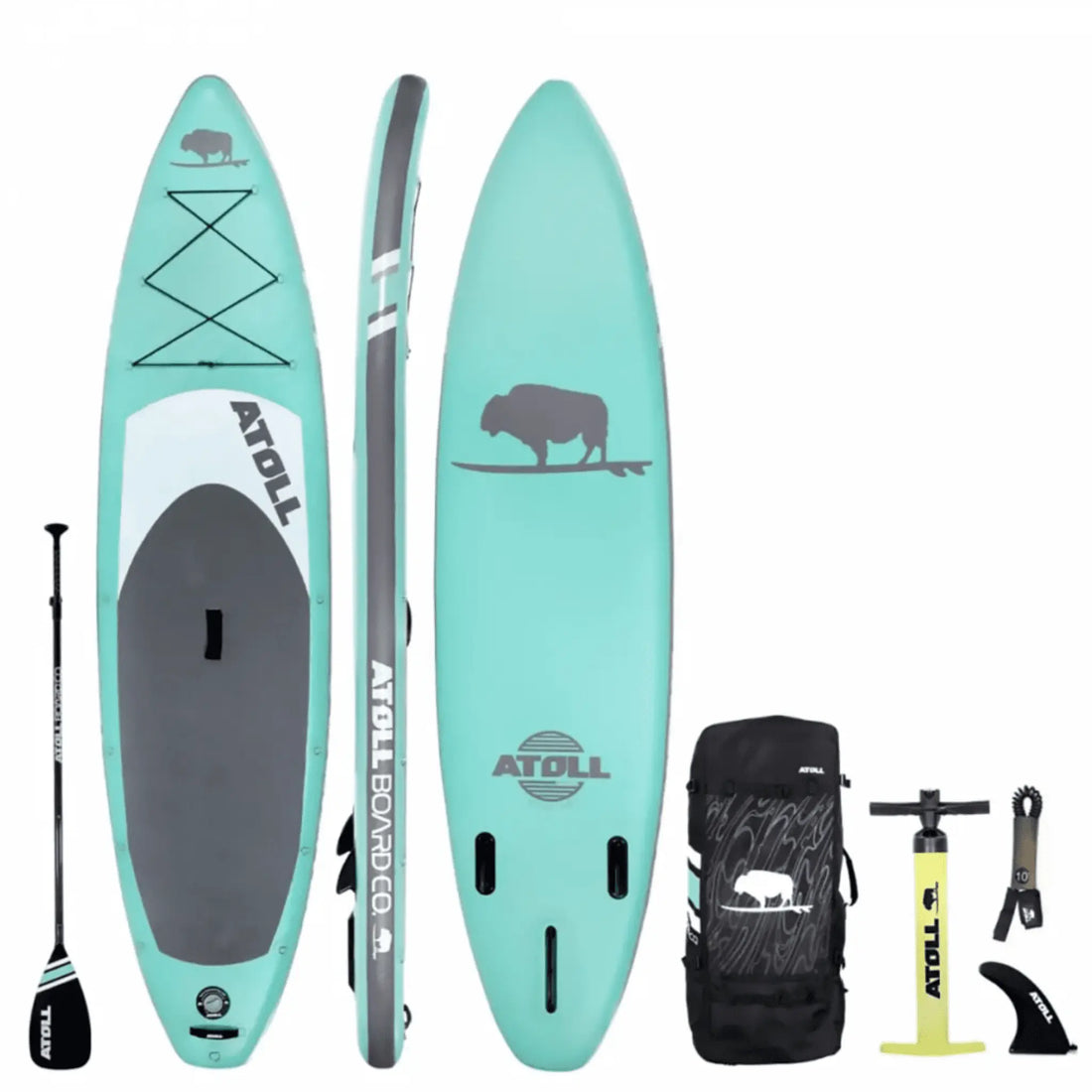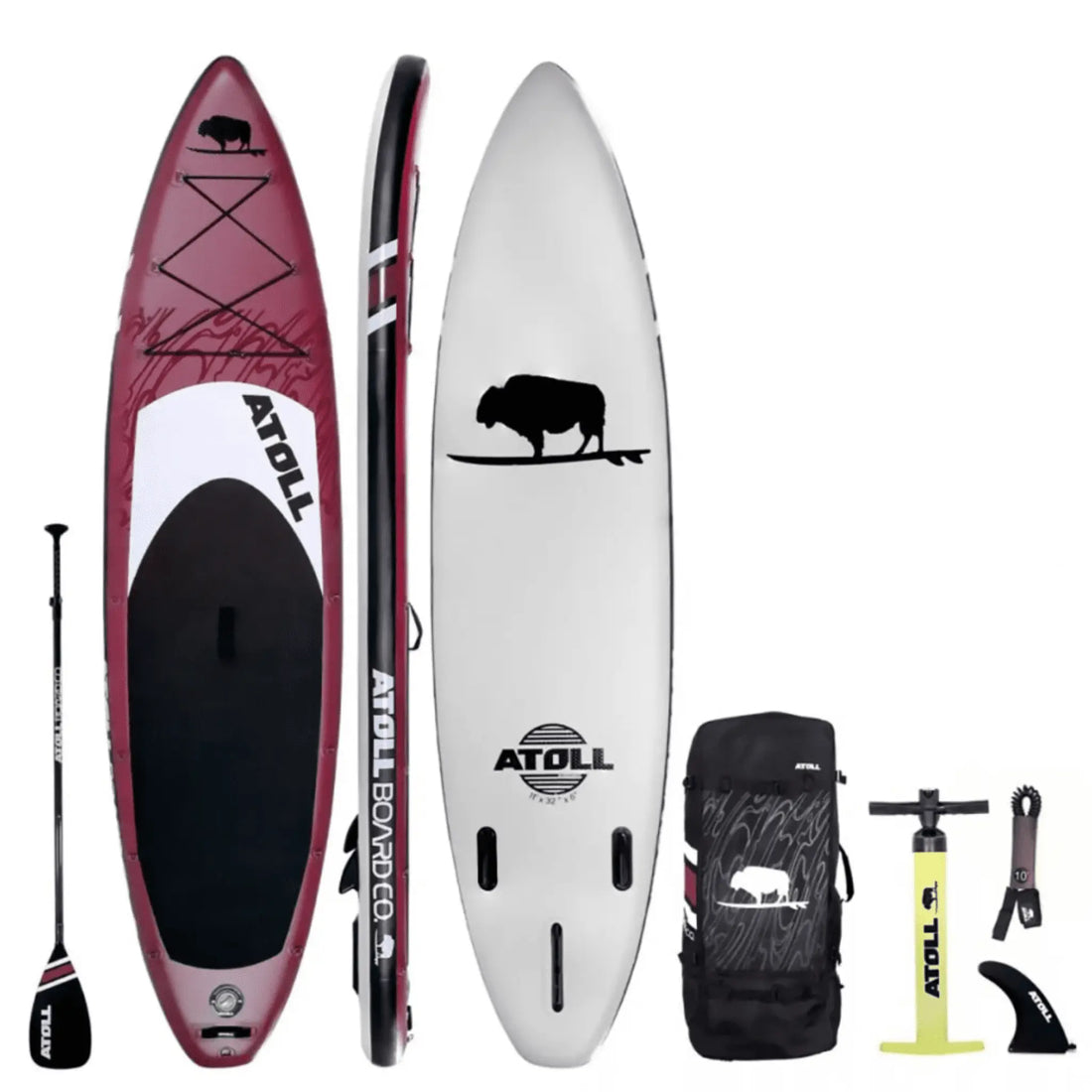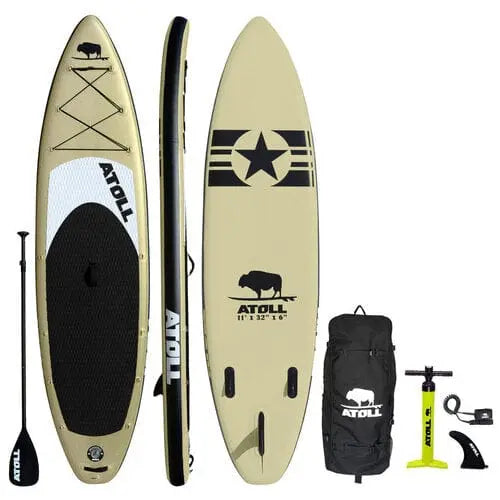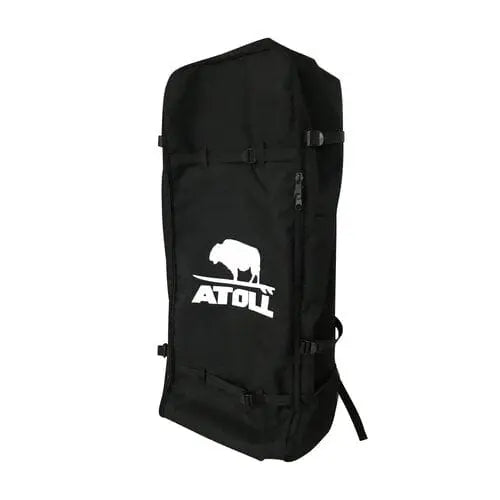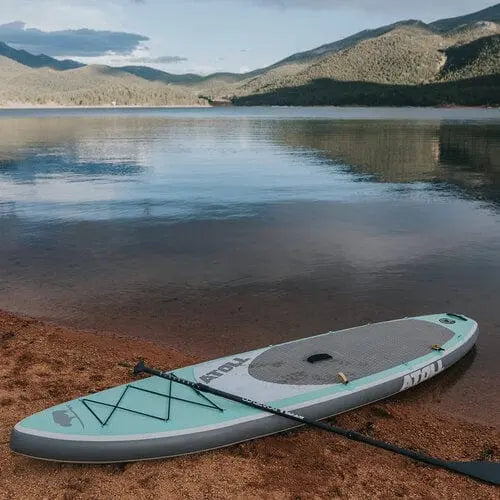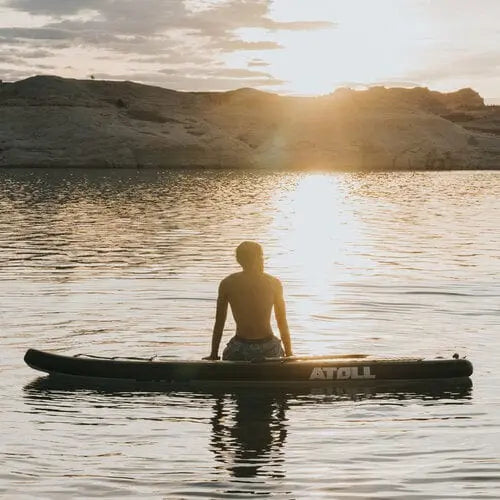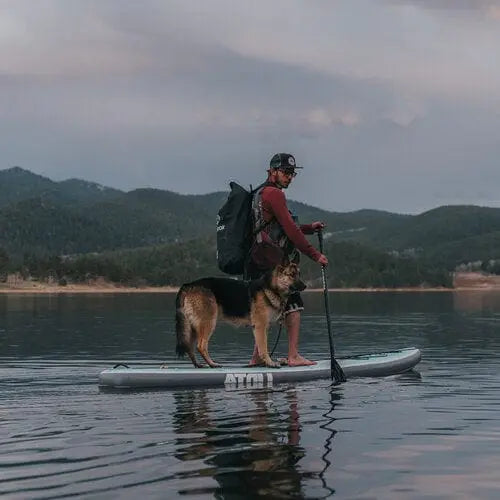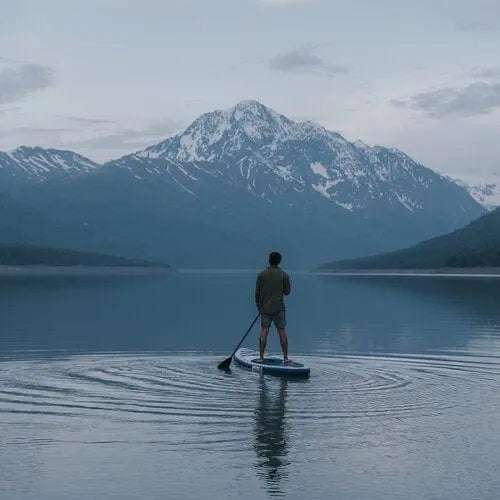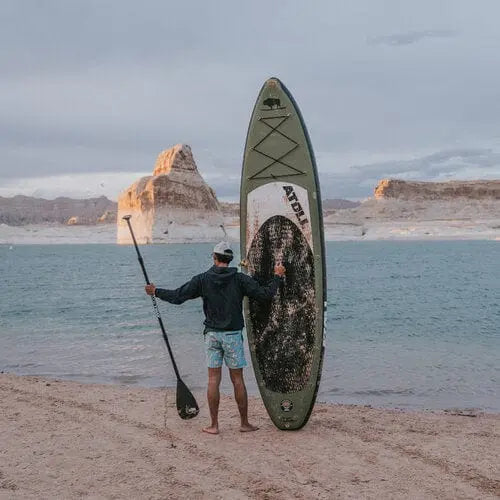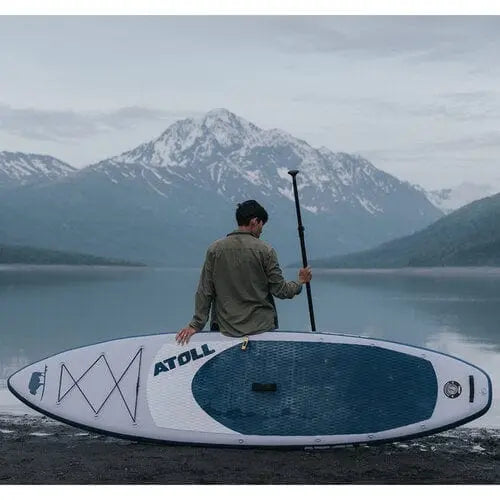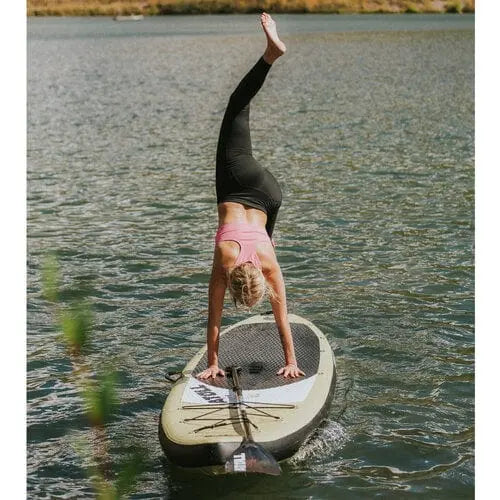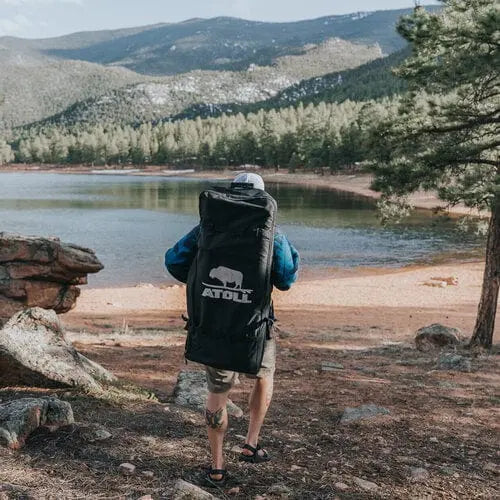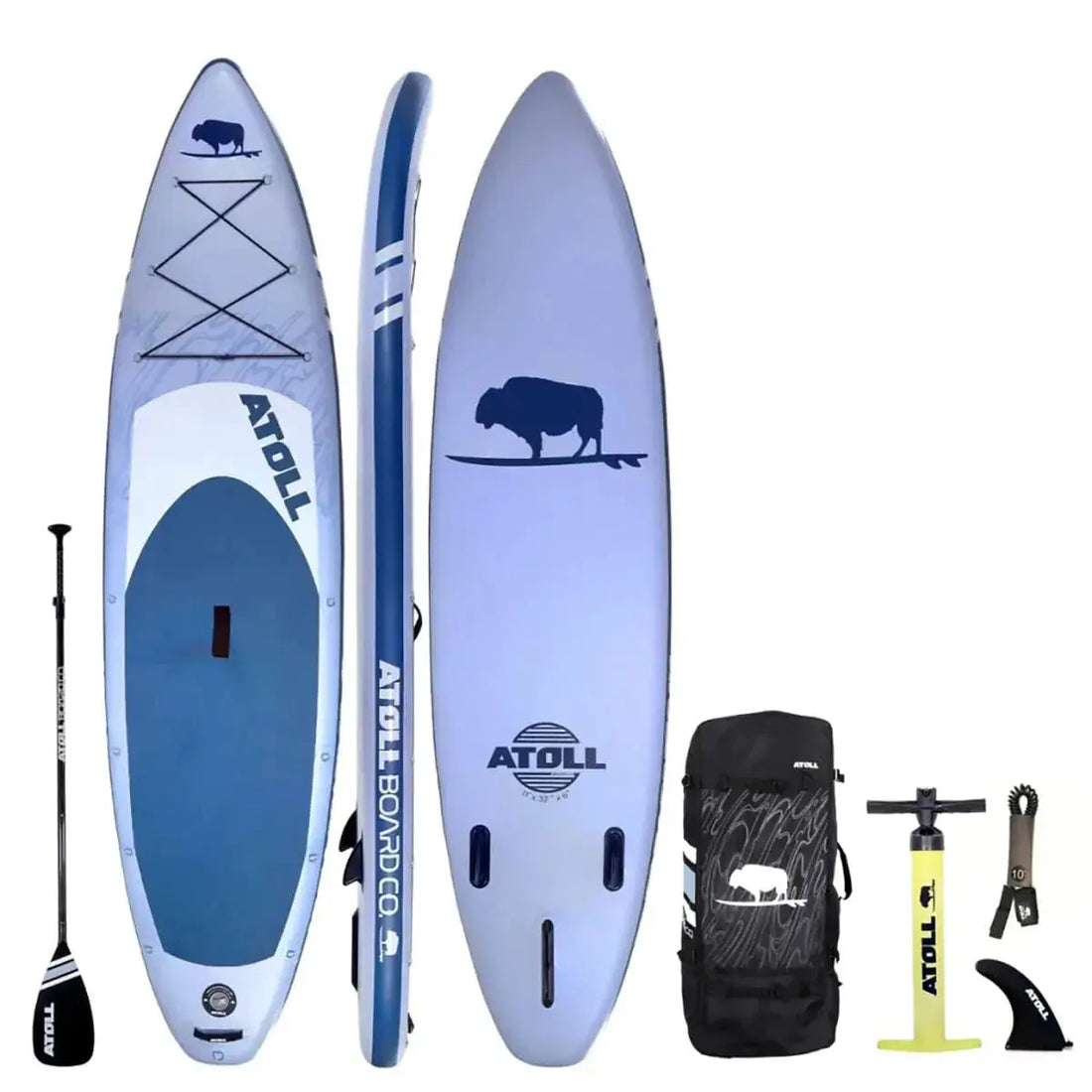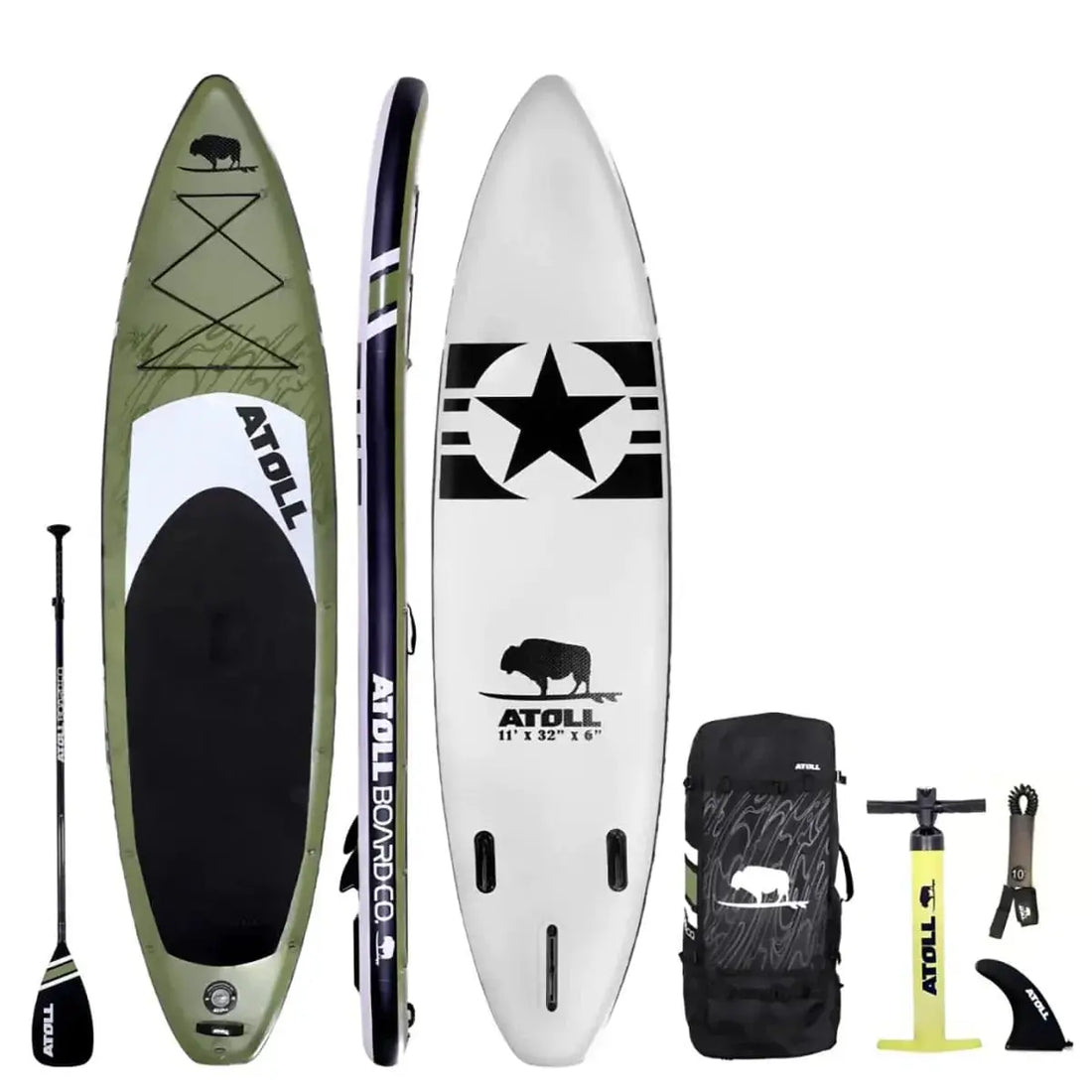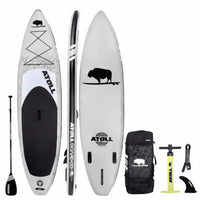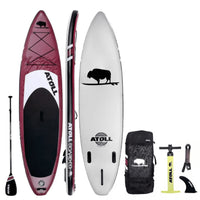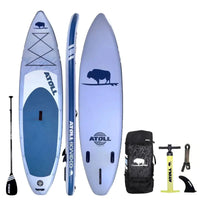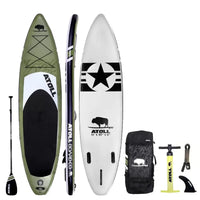 Absolutely no corners were cut in the manufacturing of this 11-foot inflatable stand-up paddleboard. The sleek, minimalist design consistently lands in top-rated paddleboard lists year after year. The 2-layer PVC board uses fusion technology to create extremely durable seams while maintaining a lightweight profile.

It's the perfect balance between speed and stability on the water.
Now with reinforced seams, a heavy-duty backpack travel bag with padded waist and shoulder straps, as well as an improved carbon fiberglass paddle with nylon blade.
Atoll Fiberglass / Carbon Fiber 3-piece Paddle with Nylon Blade ($129)

10 Foot iSUP Leash ($39)

Dual Action High-Pressure hand pump ($94)

8 inch composite Fin ($59)

Newly designed heavy-duty SUP back-pack travel bag ($129)

Repair Kit: Valve wrench, PVC patching, and a spare fin screw. ($34)

Total: $484 Value
Dimensions: 11 ft x 32" x 6"

Volume 238 L

Made from machine laminated dual-layer PVC, the strongest and lightest iSUP material available.

Utilizing Korean Drop Stitch technology the Atoll iSUP maintains its shape and takes a beating.

SUP Weighs an astonishing 21 lbs making it one of Atoll's lightest models to date

Recommended for riders up to 400 lbs, and has been water tested at over 700 lbs with multiple riders.

15 D-rings allow you to bring all your gear.
---
Customer Service is Kind of Our Thing
We care about our customers and want to get you out onto the water in a safe and friendly manner. We are always happy to help and make sure that you have the best possible customer experience. Drop us a line in our chat with any questions or concerns, we always love to hear from you!
"Couldn't have asked for better service!"
John
We bought two sups from Ottawa Valley Air Paddle and couldn't have asked for better service! Scott and Lana provided helpful information on what we need as beginner paddlers. They weren't pushy and I didn't feel like they were trying to up-sell their products. They also provide rentals so we'll definitely contact OVAP so that our friends can join us on the water! I've looked at other companies and OVAP's prices are the best I've seen!
"One of my best purchases made!"
Kaitlin
I purchased the Weekender 10' Inflatable Stand Up Paddleboard. One of my best purchases made! Light to carry, easy to inflate, glides seamlessly on the water. And the customer service... out of this world!! Lana and Scott are very helpful, informative and a pleasure to work with.
"I very strongly recommend them!"
Diane
I came across OVAP via Marketplace and their website. Scott replied very quickly to my enquiry and we arranged to meet at their location. Scott and Lana, young and dynamic entrepreneurs and avid paddle boarders, were extremely helpful in answering my very numerous questions. They demonstrated the pros and cons of boards, provided advice, and suggestions. I left fully equipped and will buy more add-ons from them. I very strongly recommend them!
"Phenomenal Service!"
Elie Massaad
Phenomenal service and great people. They kept us updated on our order and were flexible with our pick up time. They also gave us a run down on how it works. If you want Atoll boards in Canada, go through them.