Level Six Puffer Infant Flotation Aid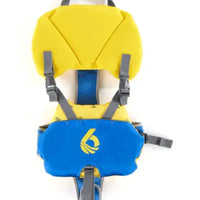 Level Six Puffer Infant Flotation Aid
Introducing the Level Six Puffer Infant Flotation Aid, the perfect companion for water adventures with your little ones. Designed with safety and comfort in mind, this flotation aid is specifically tailored for infants from 9-25lbs, ensuring their security while enjoying water activities.

The Level Six Puffer Infant Flotation Aid offers exceptional buoyancy, keeping your baby afloat and supported in the water. It is meticulously crafted from high-quality materials, providing durability and reliability you can trust. The flotation aid features a secure and adjustable harness system, ensuring a snug and comfortable fit for your child.

The design of the Level Six Puffer is carefully thought out to allow maximum freedom of movement for your infant. The lightweight construction and strategically placed flotation panels enable natural arm and leg movements, promoting water confidence and encouraging your little one to explore and enjoy aquatic environments.

Safety is of paramount importance, and the Level Six Puffer Infant Flotation Aid incorporates several key features to provide peace of mind for parents. It is equipped with a grab handle on the back, allowing you to quickly and easily lift your child out of the water if needed. The adjustable crotch strap and buckle closure ensure a secure and proper fit, preventing accidental slips or removal.

This flotation aid is not only functional but also visually appealing. With its vibrant colours and playful patterns, the Level Six Puffer will surely capture your child's attention and make them excited to wear it. It is available in a range of sizes, accommodating infants of different ages and weights.

Whether you're heading to the pool, the beach, or enjoying a family boat trip, the Level Six Puffer Infant Flotation Aid is the perfect choice for keeping your baby safe and comfortable in the water. With its superior craftsmanship, adjustable fit, and eye-catching design, this flotation aid is an essential companion for any water-loving family.

Please remember that the Level Six Puffer Infant Flotation Aid should always be used under close adult supervision and in accordance with the manufacturer's guidelines for optimal safety.
Note: This PFD is not US Coast Guard approved since there is currently no testing standard to certify PFD's for children under 20 lbs.

Features:
3 piece collar design for head support
An integrated tri-webbing adjustment system
Quick-release buckle system for diaper changes
80% neoprene / Shell 20% polyester
Ottawa Valley Air Paddle stands behind all it's products and offers a an industry leading 45-day money back guarantee. We want you to love your paddling equipment and if it's not right for you, we will find a way to make it right. If you would like to return a product, please reference our refund policy here.
Highly recommend!!
This was recommended to me by the owner of the company and it didn't disappoint! My 11 month old loves it and it's perfect! Thank you again!