Level Six Hood Loop Straps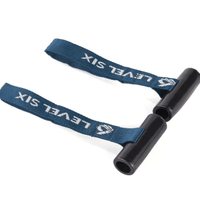 Level Six Hood Loop Straps
Introducing Level Six Hood Loop Straps - the perfect accessory to enhance your outdoor adventures and simplify your gear transportation. Whether you're an avid kayaker, canoeist, or SUP enthusiast, these Hood Loop Straps are designed to securely fasten your gear to your vehicle's hood, ensuring a safe and hassle-free journey.
Crafted with durability and reliability in mind, Level Six Hood Loop Straps are made from high-quality materials that can withstand the rigors of rugged terrain and adverse weather conditions. Each strap is constructed using robust nylon webbing that provides exceptional strength while remaining lightweight and easy to handle.
One of the standout features of Level Six Hood Loop Straps is their versatility. With their durable construction and reliable performance, they are suitable for transporting a variety of outdoor equipment such as kayaks, canoes, paddleboards, and even skis or snowboards. The straps provide a reliable anchor point, preventing your gear from shifting or coming loose during transportation, giving you peace of mind while on the road.
When it comes to convenience, Level Six Hood Loop Straps excel. They are compact and lightweight, making them easy to store in your vehicle or gear bag when not in use. Their quick installation and removal process means you can spend less time fussing with straps and more time enjoying your outdoor pursuits.
Upgrade your gear transportation experience with Level Six Hood Loop Straps. Combining durability, versatility, and ease of use, these straps are a must-have accessory for any outdoor enthusiast. Say goodbye to worrying about your gear during transit and focus on what you love most – exploring the great outdoors.
Features:

100% Polyester webbing
Soft PVC tube
Reinforced stitching
Sold in pairs
Ottawa Valley Air Paddle stands behind all it's products and offers a an industry leading 45-day money back guarantee. We want you to love your paddling equipment and if it's not right for you, we will find a way to make it right. If you would like to return a product, please reference our refund policy here.