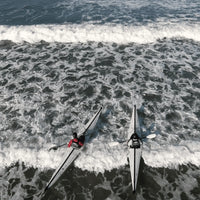 "Love my kayak! I was so happy to find a distributor in Canada. The Oru's fun, flexible and quite responsive."
- Krista McNamara
🍁Canada Wide Shipping🍁
The Coast XT is built for serious adventure — and now we've made it even more sturdy, with new aluminum cockpit latches and extra-reinforced strap anchor points. Also added is a new geometric print pattern that screams "performance". The Coast XT is our super-fast origami kayak in the lineup — efficient in the water and can hold enough gear for days. It's tough enough to handle the open ocean, but still light enough to carry on your back.
Note: Thigh braces are not included with this product.
A 16'2" performance kayak that folds down to the size of a large suitcase. At 32 pounds, this origami kayak weights the same as an ultra-fancy carbon fiber one. It's compact enough to store in your trunk, closet, boat, or garage — but can store a ton of gear. With the Oru Pack, you can even check it on a plane or hike into remote waters.
The Coast XT can handle anything you throw at it. The closed cockpit can be used with a spray skirt to keep you dry in waves or rain. It's best for intermediate and advanced paddlers.
Durability
Our origami kayaks are lightweight but extraordinarily strong. They're created from 5 mm double-layered, custom-extruded polypropylene with a 10-year UV treatment. Translation? Oru Kayaks are incredibly puncture + abrasion resistant and built to last. They can withstand sliding over rocks, bumping into obstacles, and folding up tens of thousands of time.
Weight: 32 lbs (14.5 kg)
Length: 16'2" (493 cm)
Width: 25" (64 cm)
Cockpit: 16" x 30" (41 x 76 cm)
Storage: 180 liters
Max Paddler Height: 6'3" (190.5 cm)
Weight Capacity: 400 lbs (181 kg)
Kayak Box: 33" x 14" x 29" (84 x 36 x 74 cm)
Shipping Box: 35" x 17" x 31"
Setup Time: 10-15 minutes
Ottawa Valley Air Paddle stands behind all it's products and offers a an industry leading 45-day money back guarantee. We want you to love your paddling equipment and if it's not right for you, we will find a way to make it right. If you would like to return a product, please reference our refund policy here.
The OVAP Advantage
In the few short years since openeing, we've helped thousands of customers get on the water in a new paddling vessle. We've focused on offering great products along with world class customer service and product knowledge. Our team of paddling experts will help you select the right product, we'll deliver it on time and we stand by our 45-Day Love Your Gear Guarentee.
Here's What some of our customers are saying
Absolutely perfect!
"The price was the same as if I had bought directly from the company, plus I saved the importation fees. So you are much better off buying from Ottawa Valley Air Paddle. And the kayak is amazing, it takes 2 minutes to assemble and disassemble, and it is lighter and much faster than my former inflatable one."
-  Nathalie M.
-------------------------------------
The entire experience was fabulous from start to finish
"We are so impressed with Ottawa Valley Air Paddle. This is our second Bay St. We ordered the first one directly from ORU. This time we saved on shipping from the US and the price of the kayak was significantly less than Amazon. The entire experience was fabulous from start to finish. High recommend working with Scott and Lana. They are knowledgable, seem to genuinely care about the customers, and offer service that is exceptional."
- Catherine
Oru Coast
We love the Oru Coast!!! I weigh 170 and my husband weighs 240 and we both were able to use it (separately) easily and most importantly we didn't sink! It is a great conversation piece when one is putting it together on the beach … lots of people come over and comment and ask questions! We look forward to the day when we can put it together in 10 mins . Right at the moment we have it down to 45 mins…. But it is well worth it! It fits easily into our small car and we are looking forward to taking it on the ferry to the Toronto Islands. It is well worth getting the carry bag … as it makes so much easier to transport.
Love my kayak! I was so happy to find a distributor in Canada. The Oru's fun, flexible and quite responsive.
Storage capacity
There's room to stash gear for serious expeditions and camping trips. Stow up to 180L of gear in the bow and stern storage compartments; it can safely carry up to 400 lbs of weight (including yourself).
Sturdy coaming
This is the fancy word for the rim around the cockpit — it reinforces the origami kayak and lets you wear a spray skirt for keeping safe and dry in open water. For 2021, we've upgraded to custom marine-grade aluminum latches to secure the two halves together.
Seamless deck closure
6 zipper channels close and seal the deck. They're easy to install, watertight, and make a rock-solid deck once assembled.