iSup Intelligent Electric Pump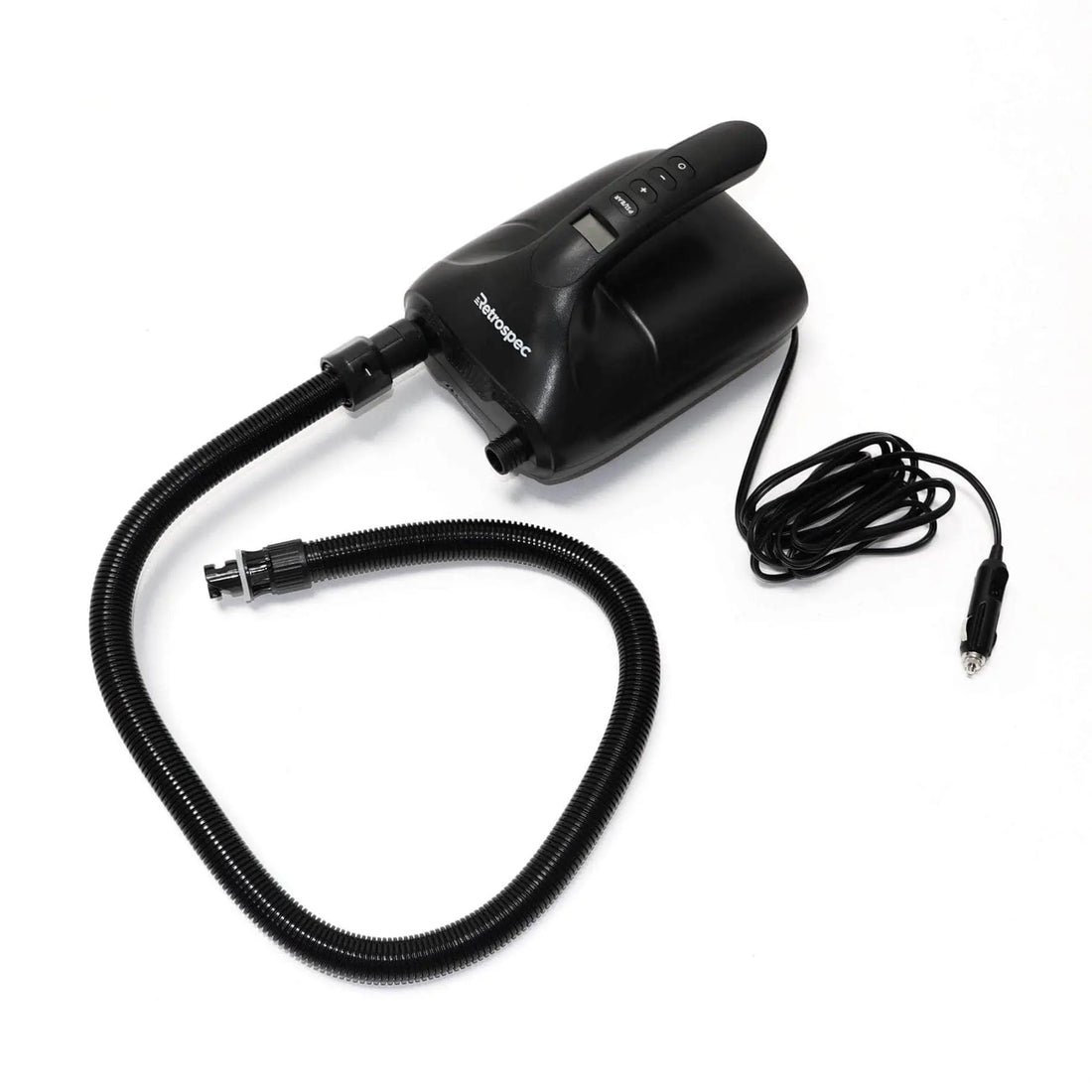 iSup Intelligent Electric Pump
Nothing should stop you or slow you down from getting on the water. Retrospec's new iSUP Intelligent Electric Pump takes the hassle out of inflating your inflatable stand-up paddleboard so you can save your energy for the fun part. Our iSUP Intelligent Electric Pump features a 2-stage, 12 volt DC electric pump with a preset pressure LCD screen. Set your pressure value, lock your pump into place, flip it on, and wait! Your pump will inflate your board to the perfect pressure for painless paddling and stop inflating right at the desired PSI.


Retrospec's iSUP Intelligent Electric Pump comes with a flex-hose with fittings and a helpful owner's manual.
Power Type: 12V DC
DC plug-in cord length: 118 in / 3M
Flex-Hose length: 39 in / 1M
Pressure Range: 0 to 20 PSI
Pressure Max: 20 PSI
Standby Mode: 2 minutes no use
Powering On/Off: Press/hold power button 3 seconds
Runtime - max.: 20 min.
Min Cooling Time: 30 min
Motor: 2-stage: auto-switching low-pressure/high-volume / high-pressure/low-volume
Gaskets: 3 sizes: 1 factory installed (thinnest); 2 additional.
Ottawa Valley Air Paddle stands behind all it's products and offers a an industry leading 45-day money back guarantee. We want you to love your paddling equipment and if it's not right for you, we will find a way to make it right. If you would like to return a product, please reference our refund policy here.
iSup Intelligent Electric Pump.
I purchased this pump, to make my life a little easier.
It infact did that. It cut my pump time more than in half. Which means I am on the water faster.
Highly recommend!!!!!!
Buy this!!!
I can't recommend this pump enough. It has allowed me to transport my board to many locations with ease. It only takes a few minutes to pump up my 10' weekender and about 1 minute to deflate. This product makes it 100x easier to get out on the water every weekend.
iSUP intelligent electric pump
Last summer reached out to Scott and Lana about this product and they did a great job discussing the product and how it worked etc, Wasn't sure if it would fit my board or my wifes and they were very willing to hook it up to our boards first and make sure it would work. It worked and we bought it! Wish we had done this sooner. Live close to the Ottawa River but also travel to Algonquin Park and other lakes in the Ottawa Valley and alot easier with this product to get up and paddling quicker than inflating 2 boards with a manual hand pump. Highly recommend this product and also OVAP!