Hi Five Kids' Kayak Paddle 190cm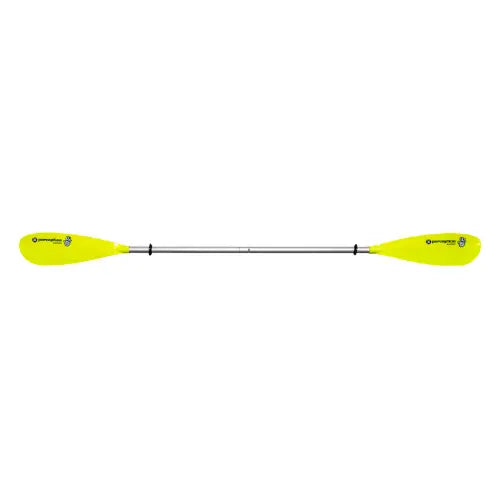 Hi Five Kids' Kayak Paddle 190cm
The ultimate kids' paddle for any kayak.
Featuring a shorter paddle shaft and smaller blades, the Hi Five paddle is sized specifically for younger paddlers. The smaller diameter shaft accommodates smaller hands and offers a more comfortable fit for kids than a standard adult paddle. Generally well-suited to paddlers under 5 feet tall.
This paddle works perfectly with the Hi Five kids' kayak but will also allow your children to more comfortably paddle other smaller kayaks. Additionally, kids can change the angle of their blade just like the grown-ups do.
Optimized for the Perception Hi Five kayak
Compatible with any kids' kayak
190cm long (vs. 230cm for average adult paddle)
Smaller (425cm2) blade for easy strokes
Small diameter shaft sized for smaller hands
3-position push-button ferrule connection (60/0/60) in center of paddle shaft - enables adjustment of the blade angle known as feathering
Paddle Weight: 1.67 lbs

Materials:

Fiberglass-reinforced polypropylene blades
Corrosion-resistant anodized aluminum
Ottawa Valley Air Paddle stands behind all it's products and offers a an industry leading 45-day money back guarantee. We want you to love your paddling equipment and if it's not right for you, we will find a way to make it right. If you would like to return a product, please reference our refund policy here.