Moki I R-Deck (Removable Spraydeck)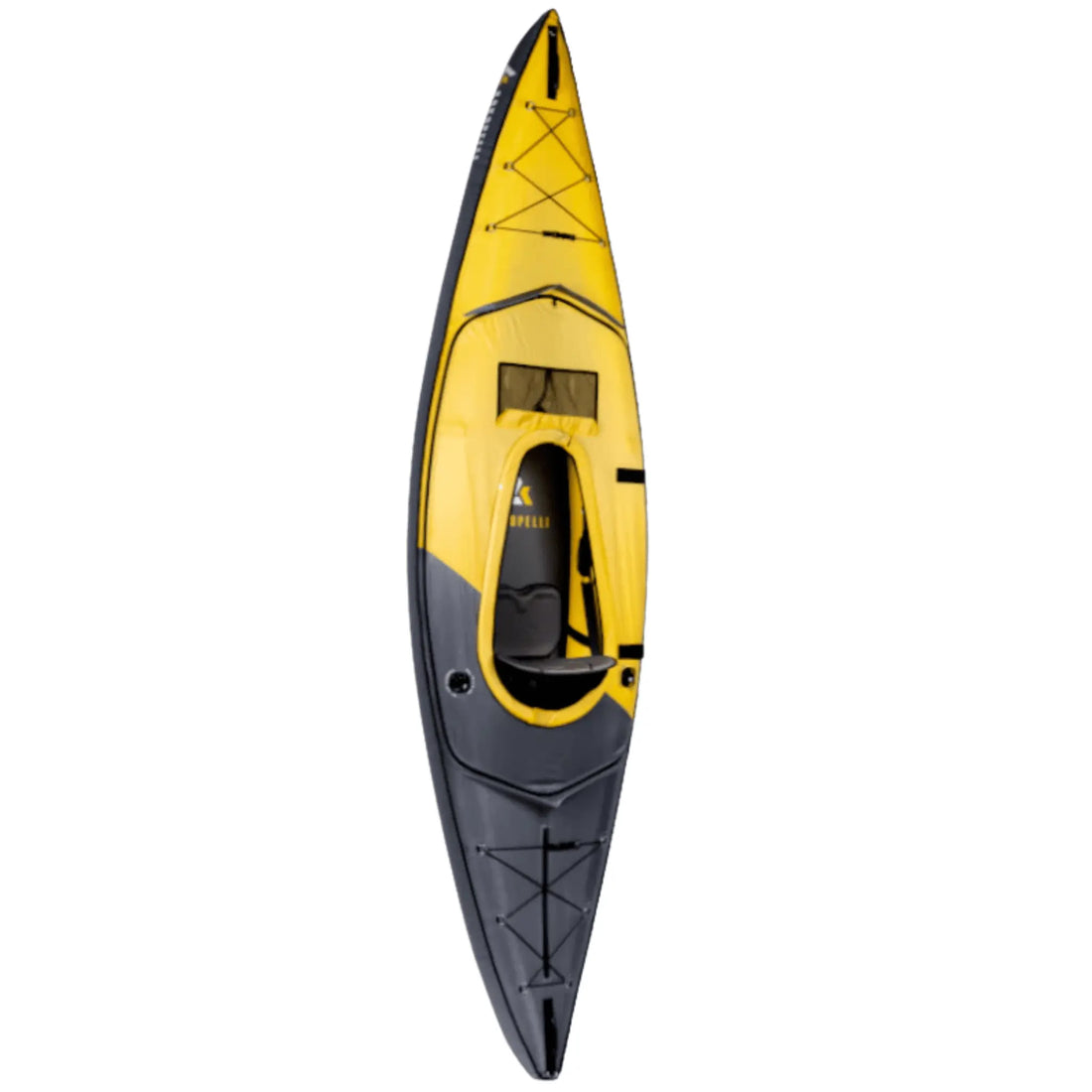 Moki I R-Deck (Removable Spraydeck)
The Moki I R-Deck (Removable Spraydeck) is perfect for adventure paddlers seeking a durable and versatile inflatable kayak that can easily be stowed and transported. The Moki I offers all the benefits of the Moki-Lite, plus the additional protection of our Removable Spraydeck System (R-Deck) for cold or rainy days and a completely redesigned combing ring. 
All of our Moki Series boats feature a high pressure rigid drop-stitch floor for ultimate stability, a 9in (23cm) removable tracking fin to keep you on course, user-friendly Leafield D7 valves, and multi-chamber inflation for added security on the water (not that you'll need it). The American Standard Fin Box also accommodates most e-motors for when you've got a lot of water to cover, or just feel like taking it easy! 
Weighing in at 34.6lb (15.7kg), the Moki I is ideal for flat open waters, touring, and ocean paddling, and takes up minimal space, no roof rack required! For an all-inclusive paddling experience straight out of the box, we've included our Alpine Lake Paddle (4-Piece Breakdown), our super-fast Nano Barrel Pump, ultra-comfy EVA seat, repair kit with glue, one-person removable spraydeck, and our premium Moki Carry Bag to get you to the water as efficiently as possible.
1x Moki I R-Deck
1x Alpine Lake Paddle (4-Piece)
1x Nano Barrel Pump
1x EVA Seat
1x Drop-Stitch Floor
1x Repair Kit with Glue
1x Removable Fin
1x Moki Carry Bag
1x Combing-Ring Tube
1x 1-Person R-Deck (Removable Spraydeck)*
*Sprayskirt is an additional accessory and NOT INCLUDED
Series: Lake Series
Material (Sidewall): 420d Nylon + 1000d Reinforced PVC
Type: R-Deck (Removable Spraydeck)
Material (Floor): 1000d Reinforced PVC
Water Rating: Flat Water, Bays & Inlets, Class I
Valve (Pontoon): Leafield D7
Chambers: 3 (Left Pontoon + Right Pontoon + Drop-Stitch Floor)
Valve (Seat): Leafield D7
Weight Capacity: 500 lbs (227 kg)
PSI (Pontoon): 1.0
Weight (Boat): 23.1 lbs (10.5 kg)
PSI (Floor): 6.0
Weight (Boat + Key Accessories*): 34.6 lbs (15.7 kg)
Outer (Length): 144 in (396 cm)
Weight (Boat + All Accessories): 49.9 lbs (22.7 kg)
Outer (Width): 35 in (89 cm)
Packed Size (Folded): 31 x 20 x 8 in (79 x 51 x 20 cm)
Inner (Length): 96 in (244 cm)
Sprayskirt Compatible: Yes
Inner (Width): 14 in (36 cm)
Thigh-Strap Compatible: No
Removable Tracking Fin (Length): 9 in (23 cm)
Removable Tracking Fin Compatible: Yes
D-Ring (Material): Stainless-Steel - 1 in (2.5 cm)
E-Power Compatible: Yes
D-Ring (# of): 12 Total = 6 Bow + 6 Stern
Warranty (Boat): Manufacturer Lifetime

*Key Accessories for the Moki I R-Deck include the Drop-Stitch Floor and the EVA Seat.
Ottawa Valley Air Paddle stands behind all it's products and offers a an industry leading 45-day money back guarantee. We want you to love your paddling equipment and if it's not right for you, we will find a way to make it right. If you would like to return a product, please reference our refund policy here.
Purchased Moki I R (Removable Spraydeck)
I love this inflatable kayak. It takes a couple of practice trial runs but now I can inflate and assemble quickly and be out on the water in 15 minutes.
Scott was great at answering all my questions about this kayak and he clearly communicated when it would be shipped to my home. This company was a great choice to purchase from.